Experience
The Perfect Home Base for Exploring Oahu
At Hotel Renew, discover a unique hotel near Waikiki Beach anchored by wellness, adventure, and a sense of community. You'll feel it from the moment of arrival, a cool lemongrass-scented towel and a refreshing glass of mamaki (an iced Hawaiian herbal tea revered for its ability to flush toxins and relieve stress) setting the tone for what's to come.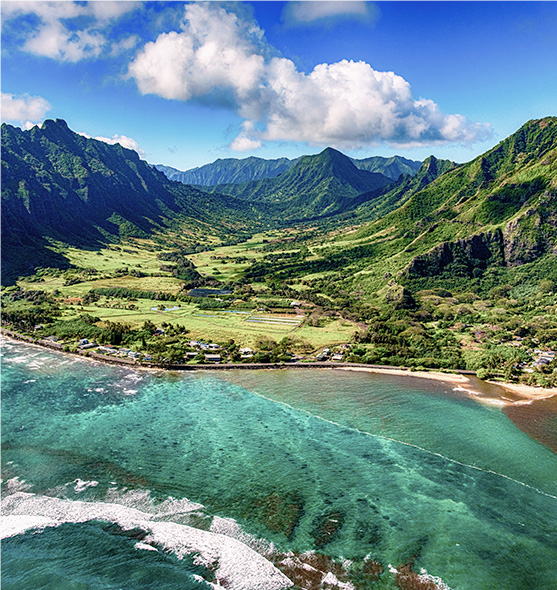 EXPLORE BEYOND WAIKIKI
Kaka'ako /
3.6 miles | 15 min by car | 45 min walk
The up-and-coming Kaka'ako art district has been named "Honolulu's hippest neighborhood", and an outing there will surely clarify how it earned that title. What used to be an industrial block of abandoned warehouses was transformed by local street artists, using the walls of Kaka'ako's buildings as a canvas to create the open-air POW! WOW! Mural Art gallery. Stylish enterprises soon appeared, including the gourmet food stalls, urban retail stores, and juice bars of SALT at Our Kaka'ako.
Eat: Moku Kitchen, Highway Inn Kaka'ako, Piggy Smalls
Drink: Bevy, The Brewseum, Waikiki Brewing Company
Wellness: The Hang Out AntiGravity Fitness & Yoga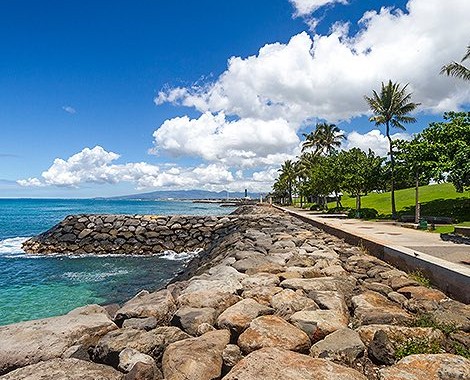 Kapahulu /
1.1 miles | 5 min by car | 20 min walk
Small mom-and-pop Hawaiian shops sit nestled between restaurants on the vintage sidewalks of Kapahulu Avenue. After perusing impressive collections of aloha shirts at the antique shops, stop by Diamond Head Grill for delicious island confections, Uncle Bo's for kalua pork and dumplings, Leonard's Bakery for a warm malasada pastry, or - if it's a Saturday - the Waikiki Specialty Farmers' Market for fresh island produce.
Eat: Diamond Head Grill, Leonard's Bakery, Side Street Inn
Drink: Uncle Bo's, Tiki's Bar and Grill, Onstage Drinks & Grinds
Wellness: Hawaii Yoga Institute, Ohana Surf Project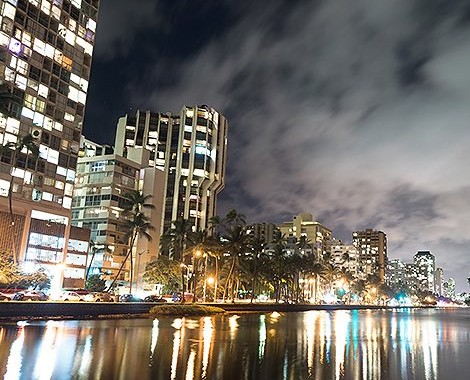 Kaimuki /
1.9 miles | 10 min by car | 45 minute walk
Built on the side of O'ahu's Diamond Head volcanic ridge, quirky Kaimuki is marked by historic hillside homes, indie coffee shops, and specialty boutiques. Eateries such as Town offer delicious farm-to-table fare, while Kaimuki Superette's menu features specialty salads and sandwiches, and Koko Head Cafe gives comfort food a Hawaiian flare. Check out Juicy Brew for environmentally-sustainable coffees, juices, and vegan treats, or swing by da Shop. for the community's favorite independent book store.
Eat: Town, Kaimuki Superette, Koko Head Cafe
Drink: BREW'd Craft Pub, The Surfing Pig
Wellness: Juicy Brew, Awa + Olena, da Shop.